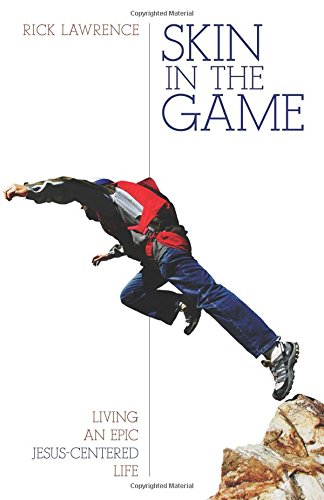 Skin In the Game: Living an Epic Jesus-Centered Life—If we're paying attention to the way Jesus related to people, we discover that He asked every person He ever met to invest their "skin in the game"—a risky personal investment—to find the life they always longed for. You can have that life, if you will embrace the way He's attempting to bring freedom to your captivity, right now…
Endorsements:
"Risk reading this book. It is a short, powerful, and wise reflection on what a Jesus-centered life looks like and what Jesus-centered people wrestle with if they stay the course."
—Dan Webster, President of Authentic Leadership, Inc., and author of Finding Your Way.
"Rick's book is engaging, challenging, and…well, epic. It is impossible to close this book as the same person you were when you opened it."
—Phil Callaway, host of Laugh Again radio and author of Tricks My Dog Taught Me
"A slim book that hums with powerful energy, biblical strategy, and deep theology for 'Christ-in-us' living."
—Leonard Sweet, best-selling author, professor, and chief contributor to sermons.com
Order it here: http://www.amazon.com/Skin-Game-Living-Epic-Jesus-Centered/dp/0825443598/ref=sr_1_1?ie=UTF8&qid=1421428113&sr=8-1&keywords=Skin+In+the+Game+Rick+Lawrence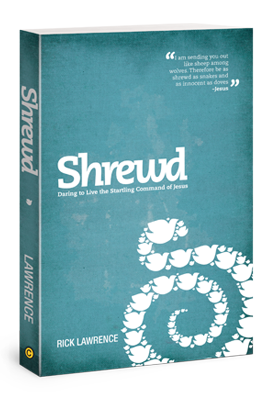 Shrewd: Daring to Live the Startling Command of Jesus—"The Parable of the Shrewd Manager" is likely the one teaching of Jesus you've never heard about in church—though He intended for His followers to own the message embedded in his story, few of us have. Here's how sheep who are wandering among wolves can draw close to Jesus while exponentially growing their redemptive impact, changing the world as they go."
Endorsements: 
"Most of my life, I've felt guilty about dealing shrewdly with the world—particularly in the ultra-complex Middle East where I serve. This book has not only given me permission to be shrewd but has provided the biblical framework for it. I encourage anyone who is following Jesus into this wild-ride big adventure into the real world to give this book a serious read."
—Carl Medearis, author of Speaking of Jesus and Muslims, Christians and Jesus.
"Shrewd is almost flawless. Rick Lawrence explores Jesus' mysterious command to be 'as wise as a serpent, as innocent as a dove'­ from every angle imaginable. From the opening exchange with the author's daughter, to the last line of admonition—'Live innocently shrewd'—you are hooked into a mesmerizing journey that shows the reader how to follow, not Mr. Nice Guy, but the 'Sensei of Shrewd.'"
—Leonard Sweet, best-selling author, professor at Drew University and George Fox University, and chief contributor to Sermons.com
"This book is flat-out brilliant! Ten pages in and my friends and I were already asking ourselves in meetings, 'How can we be shrewd in this situation?' I loved this book!"
—Jon Acuff, Wall Street Journal bestselling author of Quitter and Stuff Christians Like
"It has been some time since a book has changed how I think in everyday ministry situations. Shrewd has done just that. Rick Lawrence redefines the leadership task in the balance of Jesus' imperative to be shrewd and innocent. Shrewd gets better with each turn of the page—a rare feat—and it will be on the reading list for my leadership classes."
—Terry Linhart, Ph.D., Chair, Department of Religion and Philosophy, Bethel College-Indiana
"Shrewd is part handbook for those wishing to minister to others and part expose of the character of Jesus Christ. The book serves as a guide for engaging people to make an impact—ultimately on their eternity. Once again, Rick Lawrence has taken a verse of scripture which many Christians have read with perhaps a vague understanding of its meaning and deconstructs the reader's individual schemata, resulting in a deeper, richer, more robust knowledge of who Jesus is and what He expects of us."
—Robyn Trippany Simmons, PhD, professor of counseling at Walden University.
"The Tango I was dancing with the Holy Spirit was stiff, uncertain, and hesitant. I let others define my actions with their definitions and interpretations of how I should follow my dance partner. I now have permission to close my eyes, breathe Him in, and follow His bold, strong, and shrewd ways. My intimate dance with Jesus from here forward will be one of passionate trust. This is another of Rick Lawrence's books I have decimated with dog-ears and highlights."
—Michelle Pendergrass, former atheist, author, publisher of The Midnight Diner and Relief Journal, former president of ccPublishing, mixed-media artist, and creator of VisualPrayer.com and MichellePendergrass.com.
"Disappointed with being pushed around and minimized in your spiritual life? Had enough of the mediocre? Tired of being on the losing side of a faith that often feels simplistic and ridiculous? You need to get Shrewd! Understanding and living into this rarely-taught and profoundly transformative imperative can change everything in how you live a life of faith. Only pick it up if you want your bell rung. I read it and my ears are still ringing."
—Dan Webster, founder of Authentic Leadership, Inc.
Check out excerpts and a promo video here: http://www.shrewdbook.com
Order it here: http://www.amazon.com/Shrewd-Daring-Startling-Command-Jesus/dp/1434700739/ref=pd_sim_b_1?ie=UTF8&refRID=0P52W9GM26B4QSJDNCZJ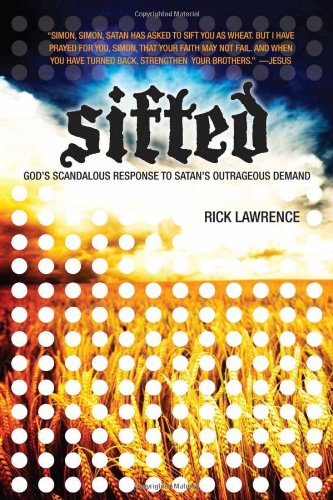 Sifted: God's Scandalous Response to Satan's Outrageous Demand—For Christians discouraged by life's difficulties—both the life-shifting catastrophes and the drip-drip-drip of daily trouble—here is a surprising, even dangerous journey into the deepest crannies of God's heart toward us. To get there, we drill deep into a single Scripture snapshot (Luke 22:31-32). Jesus tells Peter he's about to be "sifted like wheat"—shaken hard, beaten, and pitched into despair until he's separated from the person he always thought he was. Satan's going to do it. And Jesus is going to allow it. But why? Jesus makes no mistakes with His metaphors, and sifting offers a brutally honest picture of God's goodness at work on behalf of our freedom. It's a rigorously honest, deeply challenging, yet powerfully redemptive exploration of the trials that beat us down, the good God who allows them, and the incredible beauty that the whole agonizing process can reveal in us.
Endorsements: 
"What a hot shower is to coal mining, Rick Lawrence's book Sifted is to the 'dirty secrets' of discipleship. The question 'why do bad things happen to good people,' or 'why do good things happen to bad people?' is answered here differently than you'll find any other place: an invitation to journey with Jesus into the cribs, caves, and coal-mines of human existence.
—Leonard Sweet, best-selling author of books, including Jesus Manifesto and Carpe Manana, chief contributor to sermons.com, and professor at Drew University and George Fox University
"The book you hold in your hands is spiritual dynamite! It's EXPLOSIVE! Sifted is going to blow your world up! And then God is going to lovingly, carefully, and—like the Master Builder He is—skillfully rebuild you into a deeper, thicker, better, more Christ-like and Christ-infused you. A you that is more Kingdom-focused. This is one of the best-written books I've ever read."
—Derwin L. Gray, lead pastor of Transformation Church and author of Hero: Unleashing God's Power in a Man's Heart
"Have you ever read a book cover-to-cover, only to have the content become a major part of your thinking even after you are finished? I loved this book, and that's exactly what happened with me when I read Sifted. Not only do I respect and admire Rick Lawrence, but his message in Sifted can change the way you look at life. This is an extraordinary book, and I have no doubt you will draw closer to God as you read it. Don't miss the opportunity to for a life-changing experience as your heart is warmed with hope and guidance."
—Jim Burns, PhD, president of HomeWord, and author of Teenology, The Purity Code, and Confident Parenting
Check out excerpts and a promo video here: http://www.siftedbook.com
Order it here: http://www.amazon.com/Sifted-Scandalous-Response-Satans-Outrageous/dp/1434700747/ref=pd_sim_b_1?ie=UTF8&refRID=19QYXS1S1F3N6V9DK25A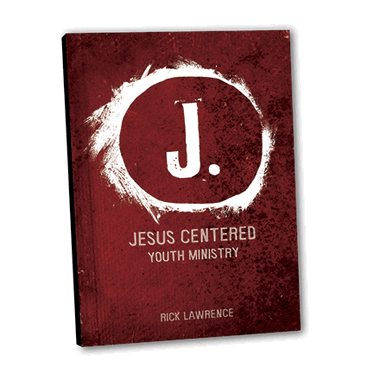 Jesus-Centered Youth Ministry: From Jesus-Plus to Jesus-Only—There's a surging hunger among teenagers for Jesus. New research shows that they want a clearer understanding of what Jesus really said and did, and how faith in him matters in their lives. In fact, that desire is so deep, it's #1 on their "wish list" for what they'd like to talk about at church. But are we doing that? Even though we assume that everything we do in youth ministry is about Jesus, the evidence is clear: That's not what our students say they're experiencing. So what would a youth ministry look like if it shifted toward a passionate, persistent, and permeating focus on drawing students into a closer orbit around Jesus?
Endorsements: 
"Yes, yes, yes! I want to be invested in the kind of youth ministry that Rick writes about, where the only thing that matters in my heart and on my schedule is being thoroughly attached to Jesus and helping kids establish this same life-defining connection. If all I did for the next 10 years was pass along this book to hungry youth leaders I would have a fruitful decade."
—Dave Rahn, Senior Vice President and Chief Ministry Officer for Youth For Christ, and director of the MA program in youth ministry leadership at Huntington University
"My college students have read and reread this book so often that their copies have worn covers. That's a potent indicator of a book that is meaningful. Rick Lawrence has captured the essence of why we get involved in youth ministry in the first place— to faithfully follow Jesus and help others to do the same. I am excited for this update of one of youth ministry's best books."
—Terry Linhart, chair of the Department of Religion and Philosophy at Bethel College, Indiana
"JCYM is an emboldening wakeup call to youth ministries and churches to root deeply into the raw and powerful person of Jesus Christ. Drawing from a vast resource of personal experience and honest reflection, as well as the sharp insights of several leading voices in youth ministry today, Rick Lawrence reminds us that the best ministry techniques are ineffective without the centrality of Jesus. Anyone who cares about transferring faith and leadership to the next generations needs to learn from the metaphors, the practices, and the simple truths of this important book."
—Ken Castor, D.Min., Assistant Professor of Youth Ministry, Crown College
"A classic that re-pivoted youth ministry eight years ago promises to continue its explosive revolution in this totally rewritten and unleashed release. Rick Lawrence yokes a solid biblical focus to theological sophistication which is then distilled into simple truths and creative apps that show what happens when Jesus is in first place—all of life falls into place and no youth any longer need feel misplaced, displaced, or out of place."
—Leonard Sweet, bestselling author, professor at Drew University and George Fox University, and chief contributor to sermons.com.
"I cannot exaggerate the importance of Jesus-Centered Youth Ministry. It will be required reading for every class I teach in youth ministry. Its message clearly is at the heart of what the Spirit presently is revealing to youth leaders—for the glory of God."
—Richard Ross, PhD, professor of student ministry, Southwestern Seminary.
"This book is the youth ministry equivalent of Vince Lombardi's famous locker room back-to-the-basics speech, where he reintroduced his players to 'a football.' With insightful theological framing, Rick invites youth workers to start with what really matters—not a bad idea given the dearth of theological thoughtfulness that seems to exist at the frontlines youth ministry these days. And just for the record—it's amazing how practical a book can be when it is anchored in unshakeable truth."
—Marv Penner, executive director of All About Youth, head of the Canadian Center for Adolescent Research, and associate staffer at The Center for Parent/Youth Understanding.
Order it here: http://www.simplyyouthministry.com/resources-adult-leaders-development-jesus-centered-youth-ministry.html